Maybe your family is expanding, your children are growing or the impact of pandemic-driven at-home life has taken its toll. Whatever your life change is, a home addition can provide your family with additional space while allowing you to stay in the home that tells your story. When taking on any type of construction project, knowing where to start can be the greatest hurdle.
This guide will break down how to add an addition to your home, including:
---
How Much Does a Home Addition Cost?
Deciding to add a home addition can be stressful for a number of reasons. The largest reason can be the cost. Depending on where you live, the size of your existing home and the size of the addition you're looking to add, the cost can range between $22,500 and $74,500. According to HomeGuide.com, the average cost to add a home addition is $48,000.
One way to estimate the cost of a home addition is to base it on the space's square feet. You can plan on this being anywhere between $85 and $200 per square foot, depending on:
Your location
The types of materials you choose (Are you choosing vinyl flooring? Or hardwood flooring?)
The size of the room
The amount of labor required
If you're building out (which is less expensive) versus building up (which is more expensive)
If you run into any unexpected issues. Renovating a home comes with uncovering unexpected issues, ranging from mold to HVAC issues to plumbing problems.
Putting aside at least a 20% financial cushion is a smart way to help cover unexpected costs
Is a Home Addition Worth It?
Determining if a home addition is worth the cost is a question that is personal to your own unique situation. Some questions you can ask yourself include:
Does our family have a sentimental attachment to the house and the neighborhood?
Is our family happy with the existing house, and we simply need more space?
Will the cost investment of adding on keep our resale value in line with the house comparables in the area?
Does our family have a place to temporarily live during the construction period?
If you answered yes to these questions, a home addition might be the right choice for you and your family.
---
How Do You Finance a Home Addition?
The first step in planning any type of home improvement project is to establish your budget. Because a home addition is at the higher end of the home improvement project scale, it may require additional financing. According to U.S. Bank, there are several options to finance a home addition. These home addition financing options are outlined below:
Home Equity Line of Credit
A home equity line of credit is borrowing against your home. To do this, you need to know the equity you have in your home (which can be calculated by subtracting how much you owe on the mortgage of your home from its current value). To finance a home addition, you can borrow against this equity, which is similar to a credit card, and also comes with an interest rate.
Home Equity Loan
A home equity loan differs from a home line of credit because a home equity loan is given in one lump sum. You must begin paying back the monthly payments as soon as you take out the loan. Paying them back on time is of the utmost importance, so the bank does not end up in possession of your home.
Refinancing
Refinancing your house can let you gain a lower interest rate than you secured when you purchased your home. This can free up some additional cash from your previous monthly mortgage payment.
Personal loan
If you haven't lived in your home long enough to establish enough equity, a personal loan may offer the access to cash you need.
---
Types of Home Additions
There are several different ways you can add livable space to your home. Depending on where you need the extra room, there is more than likely a way to make it happen. Some of the most common types of home additions are outlined below.
Bump Out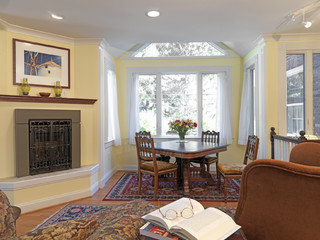 Also known as a single room addition, a bump out is an addition to a single room, such as a kitchen or bedroom. This small-scale project may only add up to 100 feet, but it will make that space much more functional.
For example, a kitchen bump out may allow you to add a breakfast nook so your family can gather to eat meals together in one space and not be split up between the kitchen and a separate dining room.
Although a bump out is small in size, it will still require you to adhere to the same set of codes and permit requirements.
Multi-Room Build Out
A full addition typically includes multiple rooms that expand back. When completed, the addition should seamlessly blend in with the existing house, and be impossible to tell where the original house ends and the addition begins. A full multi-room build out may include gaining:
An expanded great room
A mudroom off the garage
A full bathroom
A three-seasons room
Adding a multi-room build out may also require you to reimagine your existing rooms. For example, if you're adding on a new great room, what will your existing family room become? Can you convert it into a dining room? Or a library?
Multi-Room Build Up
Like a build-out, this type of home addition is when you build up and add additional space to your second floor. This may include:
Adding additional bedrooms
Expanding the primary bedroom
Adding a loft
Adding a second staircase
Full Remodel and Home Addition
A full remodel combined with a home addition is the largest type of home addition project. As well as adding on more space, you are also remodeling your existing space. This type of project may include a kitchen renovation plus an expansion, and reconfiguring the rest of your home. This could include removing walls, adding walls or reimaging how the current space can be used.
The more space you add to your home, the more home addition contractors will be involved, ranging from HVAC to plumbing to electric. Depending on the type of home remodeling professional you hire, there will also be a team of subcontractors, such as painters, carpenters or fabricators.
---
How to Plan a Home Addition
When you're creating your home addition plans, the options can be endless. So, before you travel down a Pinterest rabbit hole, below is a mini-guide on how to begin formulating a design plan and gathering your adding onto house ideas.
1. Assess Your Current Space
Create a list of what you like and don't like about your current space to help guide your home addition plan.
Example 1
Problem: You don't like carrying your children's muddy clothes through the kitchen to get to the laundry room.
Solution: Add a mudroom addition to your garage, so you don't have to carry muddy clothes through the house.
Example 2
Problem: You want a large sectional for family movie nights in your family room, but the space isn't large enough.
Solution: Add a great room onto the back of the house, and convert your existing family room into a library/work-from-home/homework room.
2. Create a Digital Inspiration Board
Whether you use Pinterest, Houzz or a folder on your laptop, create a digital library of inspiration images. Once you have gathered your ideas, identify the common themes you see.
Examples:
All the great rooms you save have coffered ceilings. If you like this look, you need to be sure that you build your ceilings high enough to accommodate the additional dropdown a coffered ceiling requires.
All the living spaces you save have cozy, warm wallpaper. If you like this look, be sure to save a portion of your budget. Wallpaper can be significantly more expensive than paint.
All the living spaces you save have molding or trim work. If you like this look, this also needs to be allocated in the budget. This often requires hiring a separate carpenter with a different type of skills.
3. Plan the Design
If you're not working with a professional designer to help you pull together your vision, planning your selections in advance will save you a considerable amount of time and money. Making selection changes half-way through the project can cause you to run into problems such as:
Inventory availability and delays.
Creating a domino effect on the other selections (for example, if you change the flooring, this may impact the built-in you planned on installing).
---
Tip for Getting Through a Home Addition
Even the most thoroughly planned home additions can bring stress and chaos. In addition to planning your financing, determining the type of home addition you need, and finalizing a design plan, a home addition comes with the added stress that you're still living in your home. During any type of construction project, finding a place to store your items can be challenging.
To help your family declutter prior to construction and protect your furniture and other personal items from construction dust and debris, a storage unit can be a tremendous asset during a home addition. A storage unit can help you safely store your items in a climate-controlled space in a size that you can select. When your home addition is complete, your items will be in the same condition you left them and ready to be welcomed into your new space.